Welcome
A coastline waiting to be explored…
From Sunderland to Hartlepool, the Durham Heritage Coast has emerged from its industrial past to an area worthy of Heritage Coast status with one of the finest coastlines in England.
The coastal path that runs along much of the coast leads you through a wonderful mosaic of great natural, historical and geological interest with dramatic views along the coastline and out across the North Sea, an area rich in shallow bays and headlands with yellow Magnesian Limestone cliffs. Click on the 'Walking The Coast' image of leaflets on the right to download a copy of the Heritage Coastal Footpath walk from Hendon to Hartlepool Headland or for any of our shorter circular walks along the heritage coastline.
Crimdon Coastal Hub
We are delighted that work will be starting on site on Monday 19th October 2020 for a community hub, café and toilet facilities at Crimdon for our local communities and visitors to enjoy. Crimdon has a wide sandy beach that is much enjoyed by families, scenic views and is also known for its annual visits from little terns, a protected species, who come from West Africa to breed every summer.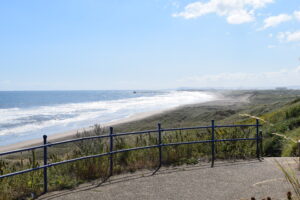 Funding from the Government's Coastal Community Fund and Durham County Council will allow this much needed facility to go ahead with visitor numbers standing at 220,000 every year.  The hub will also be a place for schools to learn about Crimdon's unique coastal wildlife with space to accommodate them as well as community groups and volunteers alike.
The project will take approximately 31 weeks to complete and will create a number of full time employment positions.
We have welcomed support from Councillor Crute and Councillor Pounder from Blackhall who have been involved with this project from the start, helping us to see it from it's vision to delivery. Councillor Crute told us "I'm delighted to see that construction of the new Coastal Hub at Crimdon is scheduled to begin soon. For a long time I've been inundated with calls from visitors and members of the public asking for improved facilities at Crimdon Dene so to see a start on site of the proposed Coastal Hub will be a huge boost for everyone with the interests of Crimdon at heart. Hopefully it will be the first step towards bringing in additional facilities and returning the resort to its traditional status as a key visitor attraction for the Durham coast." Further updates as the project develops will appear on our Crimdon page.
Heritage Fund –  Seascape Media News!
National Lottery funding is set to make waves for coastal & marine heritage in the North East of England
£2.78m has been awarded to the Heritage Coast Partnership in the North East, for the first National Lottery Heritage Fund supported Marine Landscape Partnership

The National Lottery Heritage Fund is showcasing its commitment to coastal and marine heritage in the North of England by awarding £2.78m to the Tyne to Tees, Shores and Seas Partnership scheme – the only scheme of its kind to be supported by The Fund.The grant will allow an exciting and long-anticipated £5 million North East coastal project to begin, which will benefit communities in South Tyneside, Sunderland, Durham and Hartlepool over the next four years.The project, more simply called SeaScapes, has taken three and a half years of detailed planning and preparation to arrive at this point and is now planned to begin later this year.The SeaScapes scheme will deliver 23 projects – both on-shore and beneath the sea – from South Shields to Teesmouth over the next four years. Its partnership and community approach to protecting and celebrating this fascinating stretch of coastline will be the first of its kind in the UK – the first Marine Landscape Partnership to be supported by The National Lottery Heritage Fund.Focussing on the often-overlooked coast between South Shields and Seaton Carew, SeaScapes will offer opportunities for visitors from the local area and further afield to explore the heritage hidden beneath the waves, take part in 'snorkel safaris,' and allow them to enjoy being on and in the sea – all against the backdrop of dramatic cliff-top views and a rich shoreline that is home to a breeding colony of Little Terns, one of Britain's rarest sea birds each May.The scheme will also seek to strengthen understanding of the sea and our relationships with it, encouraging people to get involved with a beach care programme to address the ever-increasing marine litter problem.Heritage Coast officer, Niall Benson, who led the bid on behalf of the SeaScapes Partnership says: "This funding is fantastic news for everyone living on and visiting this very special stretch of coastline."Thanks in part to television programmes like Blue Planet, there's an unprecedented public interest in our seas and in marine conservation. So much of our natural, industrial, cultural and maritime heritage lies out-of-sight beneath the waves and through SeaScapes we're looking forward to giving it more attention."The heritage of the Tyne to Tees seascape is locally and nationally significant and deserves to be better explored and celebrated. SeaScapes will do just that. The project is the result of a huge team effort and a lot of planning and we can't wait to get started."David Renwick, Director, England, North at The National Lottery Heritage Fund, said: "Whilst our natural heritage has been identified as a key priority for us, marine and coastal heritage has been an area we haven't really dipped our toes into as of yet.
We're delighted to support this groundbreaking Seascapes partnership, and that it will stimulate communities to have a real and positive impact on our natural world and make sure that it can still be enjoyed by future generations. We know that encouraging people to get outside will boost their wellbeing, and the beautiful coastline that Seascapes will showcase is the perfect backdrop for it."
SeaScapes is only possible because of the open collaboration and support from all the partners involved, led by the Heritage Coast Partnership, and these include:
South Tyneside, Sunderland, Durham and Hartlepool Councils, National Trust, Northumbrian Water, Durham Wildlife Trust, North Eastern Inshore Fisheries and Conservation Authority, Natural England, Groundwork, Marine Management Organisation, the Environment Agency, East Durham Heritage Group, Living History North East, Heugh Battery and Durham University, Sunderland University and Newcastle University.
Visit our SeaSscapes section for more information on this exciting project and to get involved!
Latest News on Beach Care – Get Involved!
Further information on local beach cleans and how you can get involved is on our beach clean page.
Latest News – Easington Colliery Footpaths
Easington Colliery Local Nature reserve has benefitted from funding from the European Agricultural Fund for Rural Development and now has a new network of footpaths running across the former colliery site.  More information here
In pictures
Take a look at the breathtaking views along a very special coastline. Watch a video of how the coast has changed or download one of our many publications so you can come and explore the area for yourself.
In words
Listen to coastal viewpoints, soundbites of what makes the coast so special to local people
Coast Watch
Information on Coast Watch on our Heritage Coastline in conjunction with Durham Constabulary and Northumbria Police (clicking on your relevant Police Authority area will take you to Coast Watch information and news in your locality).