Easington Colliery
Easington Colliery is situated to the north of Horden, and a short distance to the east of Easington Village. Easington Colliery is known for a mining accident or disaster which occurred, on 29 May 1951 when an explosion in the mine resulted in the deaths of 83 men (including 2 rescue workers).
There is a replica of the mine shaft over-looking the sea and an interesting time-line leading up to it.  The site of the former colliery has been designated as a local nature reserve and has good car parking facilities very close to the coastal footpath.
Easington Colliery Paths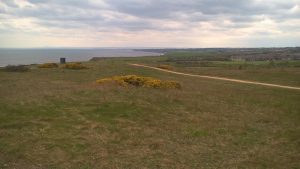 Easington Local Nature reserve has benefitted from funding from the European Agricultural Fund for Rural Development and now has a new network of footpaths running across the former colliery site.  The footpaths enable locals and visitors alike to walk around the nature reserve and enjoy the fantastic views of the surrounding countryside and coast. The footpaths will also encourage people not to stray into sensitive areas where there is an array of wildflowers and grasses providing a valuable habitat for insects and small mammals.
It is hoped that these new walking routes throughout the local nature reserve will attract more visitors to the area where there is already a picnic area, interpretation and excellent links to the wider coast and countryside.  More information on Easington Local Nature Reserve